Description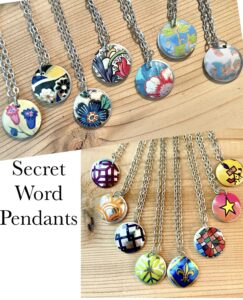 Created from a repurposed aluminum serving platter hand stamped with various words and small vintage tin discs, these charming pendants carry your 'word of the year' or personal mantra with you when ever they are worn.
Each pendant can be worn two ways. First with your message facing out or in reverse with the words facing your chest and a pretty vintage tin cover for all to see. Pendants are about the size of a penny and feature a maintenance free 16in stainless steel chain and lobster clasp.
Custom pendants available in your choice of word or color.
Please direct message me for details.
Please order by corresponding letter.
A. Yellow Floral -Amen
B. Black Floral- Seek
C. Blue Flower- True
D.
E. Blue with Red Flower-Calm
F. Blue with Green Leaves-Hope
G. Peach & Aqua – Pray
H. Purple Grid/wtf
I. Orange Circles/light
J. Navy Blue Grid/home
K. Green Grid/rockstar
L. Fleur di Lis/grace
M. Multicolor Mosaic/dream
N. Yellow Star/happy
O. Quirky human/WTF