Description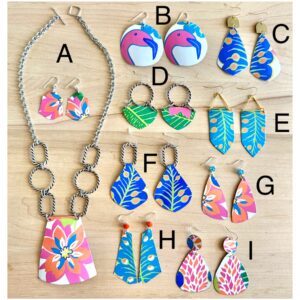 The "Calypso Collection" was repurposed from a child's tin sand bucket! Created with 'zero waste' in mind, these repurposed, super light and carefree vintage tin earrings will become your new favorites. Handcrafted from reimagined materials,  each piece is hand cut, filed, sanded and shaped to form a one of a kind adornment.  Finished with silver filled or brass ear wires.
   Tiny marks or scratches are present due to the history and age of the tin. They add to the whimsy, charm and authenticity of the piece.
Tin is the traditional 10th wedding anniversary gift because tin is both strong and flexible.
A. NECKLACE & EARRINGS SET
B. FLAMINGOS
C. BLUE LEAVES WITH BRASS
D.GREEN BANANA LEAF WITH SILVER COLORED RINGS
E. TURQUOISE AND ORANGE SHIELD WTIH BRASS
F. BLUE LEAVES WITH SILVER COLORED RINGS
G. PINK FLORAL
H. TURQUOISE POLYGON
I. PINK AND ORANGE ROUNDED TRIANGLES
**If you have earring wire sensitivities, I can, depending on the style,  potentially change the wires for an additional charge. Please message me prior to purchase for details on upgrading.
++ All TTE purchases are packaged suitably for gift giving. Each purchase comes nicely wrapped and featuring a TTE business card.   Should you wish, a personalized gift card can be included to your recipient at no additional charge. Please mention this at the time of your purchase.